One special dish is mostly famous among all non-vegetarians, which is none other than Butter chicken. The richness of this dish is inexplicable, and its aroma is perfect. People feel that the dish is so sinful that you have to go blank to see the difference with your own eyes. Although the preparation of butter chicken is quite simple, its origin can be traced back to the simple outlet started by Kundan Gujral is known as the Moti Mahal. The buttery and the juicy tenderness of the succulent chicken pieces draw the attention of every chicken lover out there. You name an outing, and there has to be butter chicken on the plate. But what is that you don't know about the famous butter chicken dish? Lets us look at some interesting facts about this holistic non-vegetarian icon!
The excellent nutritional value of butter chicken!
Earlier, when butter chicken was newly introduced to the people, the tandoori chicken was marinated and mixed with the gravy. Nowadays, a lot of effort is put into this dish to make it quite buttery. While the spices draw out the aroma, the main flavor and texture come from the heavy cream. Thus, the butter chicken recipe received its first innovation, and the chefs of today still feel the pressure to make the best butter chicken for their customers!.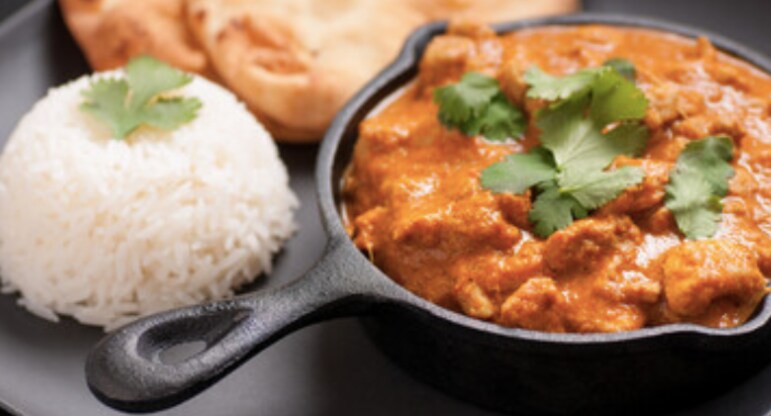 What do food experts have to say about this iconic dish?
Butter chicken is simply heaven for some. Therefore, most nutritional experts feel the need to give some valuable information about this recipe. The skillful blend takes lots of effort, and therefore, a small bowl of butter chicken lists around 500 calories. Although the texture adds to the calories, it is essential to maintain the balance with some naan bread or any other rice dish. If you love more butter on it, feel free to add some more!
The latest variations of the butter chicken available:
In the world of innovations, even the butter chicken is not left behind. Therefore, there have been various forms of butter chicken introduced along with its many recipes as well. Starting with the most famous butter chicken pizza, this recipe has also found its place in dosas too, and thus, the birth of butter chicken dosa can be traced. Butter chicken is also added in rolls and tacos and is also a part of evening snacks. Therefore, if you think you can have this dish only as gravy, try out some innovative versions.
More and more chefs in restaurants adopt this new style of using simple butter chicken and incorporating it into other foods. Thus, which butter chicken dish haven't you tried yet?